Network Overview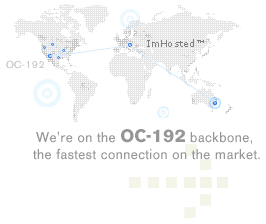 Network & Facilities Overview

The ImHosted.com Network Operations Center (NOC) is located in Atlanta, GA, USA. Featuring bandwidth-on-demand connections with one of the primary Internet backbones in the United States, allowing us to offer multiple fast OC-192 & GigeE connections, one of the fastest, most reliable connections available today. Our NOC is located in the GNAX Center, a world class facility that's home to some of the Web's largest brands. With connectivity to Level3 and Qwest our router has up to 150,000 possible routes to send each packet of data. Because we are actually on a backbone, we are able to provide you with one of the fastest, most reliable connections available.

Network Information
Find out how fast your websites will run, includes connectivity information, our providers and general network information.

Data Center Facility
Check out the world class infrastructure ImHosted™ employs and then take a 360° QuickTime VR-Tour of our facility.

Virtual Network Tour
Take our quick virtual tour and learn why we are one fastest, and most reliable hosting companies around.

Why your site loads faster at ImHosted™
Our client websites load faster than ever before thanks to content accelerators we've installed across all our servers. Find out how we can make your website 200%-300% faster, Guaranteed!